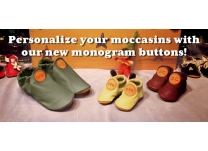 Personalize Your Handmade Moccasins with Monogrammed Leather Initials!
Back by popular demand is our monogrammed moccasins!
Just in time for the holidays, you can now personalize moccasins for you or your loved ones by adding a leather button with up to three monogrammed initials. We offered this feature many moons ago when our workshop was much smaller, and we're thrilled to once again add this personal touch to our handcrafted shoes. Each letter is hand-stamped by our crafty shoemaking elves to make your unique mocs as special as possible.
You can find our monogrammed moccasins in all sizes from baby to adult. Click on an age group below to see all the options:
You can also choose your own colors!
---
Related Posts: