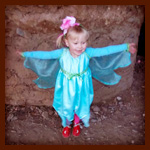 Show Us Your BEST Soft Star Halloween Costume!
Are you or your kids wearing Soft Star shoes with a Halloween costume this year? If so, then we'd love to see it!
If you have an Instagram account, just take a photo of a costume with Soft Star shoes and label it with the hashtag #spookysoftstar. We'll share it on this page for all to see!
Note: it may take a few hours for new photos to appear here.
Related Posts: