Time for the Elves to Play Again! See Our 2014 Winter Playday Projects
Each year, Soft Star owners Tricia and Larkin set aside a couple days to be designated playdays at our workshop. On a playday, we stop working for several hours and spend time developing the creative projects of our choice. Sometimes our playdays have a theme, other times it's a free-for-all. The projects we make don't need to have anything to do with our shoes, but we're allowed to use the tools and resources in our shop. At the end of the day all the elves come together for a show-and-tell to share what they created.
The reason we do these playdays to encourage creative thinking, develop new skills, boost morale... and to just have fun!
Our first playday of 2014 took place last week. We had no theme this time, so everyone was cut loose to work on whatever their hearts desired. As usual, we were surprised at the innovative ideas that took shape, and now we'd like to share some of them with you! Here's a recap of our playday projects:
(Sorry, but these items are not available for sale)
We had a small batch of green sheepskin in the shop, so Elf Elizabeth used it to make a super cozy mitten!
Elf Karen collected leather scraps from our Rogue shoes and sewed them together to make a new leather fabric. She plans to turn this into a pillowcase.
Elf Patty used our star patterns to make a corn hull game.
Elf Erica has been working on a design for a desert boot for a long time, and she used our Playday to finish her first prototype!
Elf Erica also made a scissor sheath for Tim (who is always losing his scissors).
Elf Cindy made leather business card holders.
Elf Cindy also used our LITE leather to make a new mailbag for our outgoing mail.
Elf Martin experimented with homemade leather waterproofing recipes using natural beeswax.
Elf Martin also made a leather wood carving thimble out of our bullhide sole leather.
Elf Keita created a more efficient pattern for cutting out leather straps for our kids' Velcro shoes. This will save us a lot of time!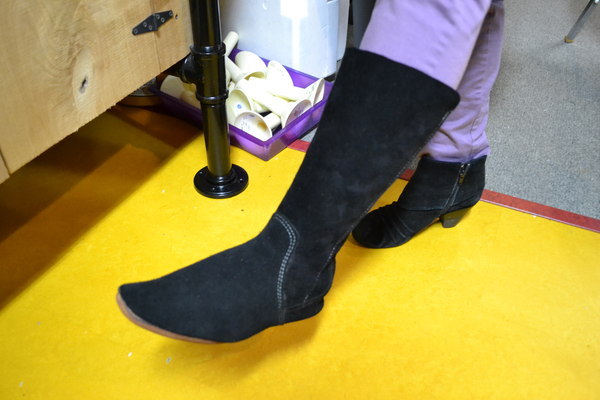 Elf Keita had some free time left, so she also whipped together a prototype for a new boot design (this thoroughly impressed all the elves)
Elf Keoni reused leather scraps to create a composite soling material.
Elf Jodi used our shoe motif patterns to make a woven leather hairband.
Elf Emily experimented with sewing our bullhide leather sole to different types of shoes. This is a variation of our new Portlander with leather laces she cut herself.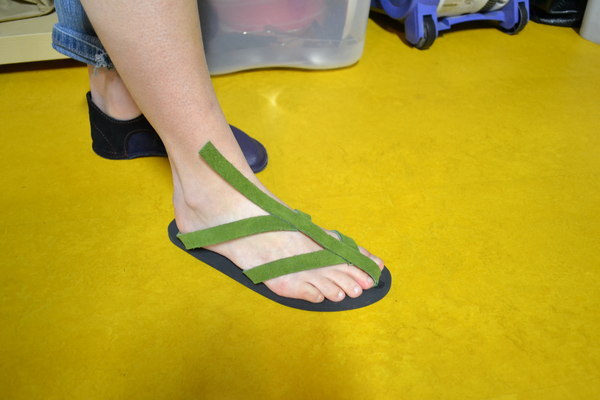 Elf Emily also worked on a new sandal design.
Elf Emily also experimented with new ways of sewing our sheepskin boot liners to create less scrap waste.
Click here to see more of our Playday projects
Related Posts: