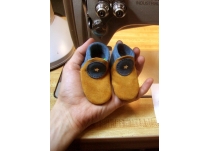 The Other Extreme
A few weeks ago, we posted a photo showing one of the largest shoes ever made in the Soft Star workshop. This week, we found ourselves at the other extreme—making shoes for extremely small (and new) footsies.
The baby shoes on our website normally start at size 3, which we've found to be a good value for newborns. A size 3 is usually a bit big until the wee one is about 3 months old, but in our experience as parents we've found that those first few precious months are generally spent swaddled up without shoes. We also know that newborns quickly move through sizes 0–3 in the first twelve weeks (Yep, a size per month!) and we don't want new parents unwittingly spending money on shoes only to learn they need a new size right away.
Quarter shown for size comparison.
Sometimes parents have a very small baby, or sometimes they just want that special tiny keepsake to mark those first days, and the Elves can certainly deliver upon request. This happened for one very radiant local mom visited our workshop last week with her 5-day-old babe. Founder Elf Tim has a lot of experience with this as one of the earliest elf babies, his youngest daughter Violet, was only 5.5 pounds when she was born and needed a size 0. In the end, we were happy to present this very sweet gold and medium blue size 1 suede moccasin.
Size 1 moc in a pattern for an adult size 15.