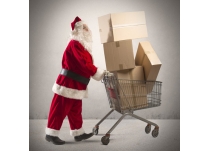 2013 Holiday Shipping for Soft Star Shoes
This is the busiest time of year at the Soft Star workshop! In order to ensure you get your orders by the holidays, please remember the following lead times we need to handcraft your shoes and travel to you.
2013 Holiday Shipping Deadlines
USA: Order by December 5 to ensure delivery by December 24 for all Boots, RunAmocs, Merry Janes or select Design-Your-Own creations. Order by December 17 for all other styles. After December 17, please call the Elves at 866-763-2525 to ensure we have your size available for last minute shipping.International (including Canada): Place orders by November 17 with First Class service, or by November 26 with Priority International service for delivery by December 24, 2013.
Remember, if you miss the deadline for our handcrafted shoes, you can always choose to send your loved ones a Soft Star Gift Card and let them choose their own styles and colors!