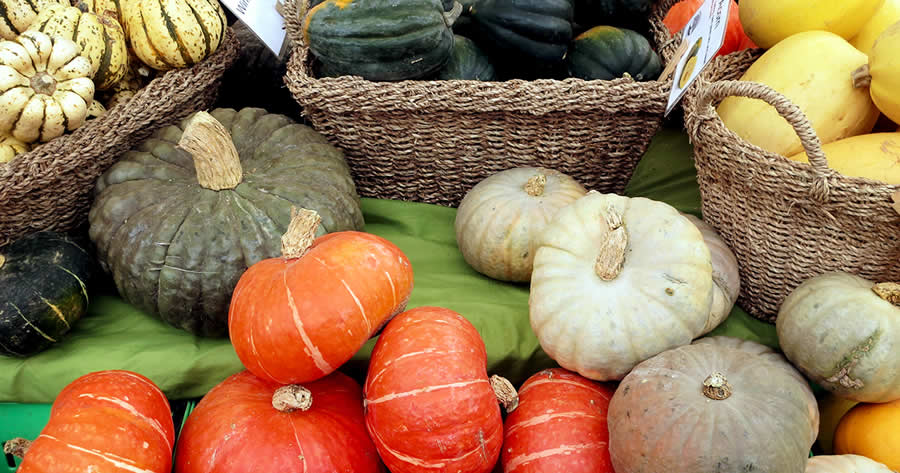 Favorite Fall Recipes of the Softstar Elves
Did you know the elves who make your shoes also are a bunch of dedicated Northwest foodies?  Lunchtime in our workshop often looks like a farm-to-table restaurant with dishes starring fresh seasonal produce, home-pickled vegetables, homemade yogurt, and many other from-scratch creations appearing in our breakroom. We often swap recipes and talk cooking with each other. You may have also noticed when your shoe orders arrive that the box often contains one of our elves' favorite recipes.
And now, with the feeling of autumn in the air, visions of fall harvest favorites—apples, pumpkin, squash, sweet potatoes, cauliflower, leafy greens and so much more—are dancing in our heads. We gathered together a few of the team's top fall recipes to give you some cooking inspiration. Slip on your Softstars and hit the farmers market this week to gather ingredients!
---
Winter Squash and Cauliflower Curry Recipe
Feel like a hearty dish full of warm spices and oniony-gingery-garlicky goodness and the incredible flavors of sweet fall cauliflower and squash? Then this recipe is for you.
Ingredients:
1 head of cauliflower
1 winter squash (or 2 to 3 if you're using a small squash variety like Delicata)
3 to 5 mixed peppers (such as a couple of sweet roasters and a couple of Thai chiles)
Olive oil
1 onion, diced
4 cloves of garlic, minced
2 Tbsp or so of minced fresh ginger
2 Tbsp curry powder
1 Tbsp ground cumin
1 Tbsp ground turmeric
1 Tbsp ground coriander
1 Tbsp salt
1 to 1 ½ cups of coconut milk
1 to 2 tomatoes
1 ½ cups whole-milk yogurt
Instructions:
Preheat oven to 350 degrees. Cut cauliflower into florets. Cut squash in halves or quarters (or thick slices). Trim up and de-seed peppers. Coat all of these in olive oil and put in roasting pans; I use one pan for the squash and one pan for the cauliflower and peppers. Bake until each are tender, and the cauliflower starts developing some nice browning (the squash will take a bit longer, so it's nice to have that in the separate pan).
When your veggies are almost done roasting, warm a few tablespoons of olive oil in a large skillet. Add the diced onion and cook for 5 minutes or so. Add in the garlic and ginger and cook for a few minutes more. Stir in all the spices and let cook for a minute or so. Add the salt and coconut milk and stir.
Put your roasted mixed peppers in a blender or food processor with the tomatoes. Blend well and add the mixture to your skillet. Simmer everything for 5 minutes or so. While that's simmering, remove the skins and seeds from your winter squash (if you didn't do so before baking), and cut into chunks.
Add the roasted cauliflower florets and the winter squash chunks to the skillet and stir. Finally, add the yogurt and stir well, and remove from heat. Serve over warm rice or another grain.
---

Simple Kale Salad with Lemon Vinaigrette Recipe
 Great for a holiday side dish to bring something green, bright, and healthy to the table!
Recipe by Annie Chesson at The Garlic Diaries. Cook/Prep time: 15 minutes. Servings: 5
Ingredients:
2 bunches kale, fibrous stems removed
½ cup grated Parmesan cheese
½ cup slivered almonds
For the dressing:
2 Tbsp fresh squeezed lemon juice
¼ cup extra virgin olive oil
½ tsp garlic, grated
1 tsp Dijon mustard
½ tsp salt
⅛ tsp pepper
Instructions:
For the kale, remove the fibrous stems, leaving you with just the greens. On your cutting board, pile all the leaves on top of each other and massage with your hands for about three to five minutes. You use a similar motion as you would kneading bread! Move the leaves around every several kneads so you aren't massaging some more than others.
Slice or tear the massaged kale into bite-sized pieces.
To make the dressing, add all ingredients to a bowl and whisk together until thoroughly combined.
To assemble the salad, place the kale, almonds, and Parmesan into a large bowl. Top with dressing and toss to combine.
You may need more or less dressing depending on the size of your bunches of kale. Just dress to your preference.
---
Cauliflower Hash Browns Recipe
 Elf Tesla loves that this unique dish helps her family get some veggies first thing in the morning!
Adapted from Healthier Steps. Cook time: 20 minutes. Servings: 6 patties
Ingredients:
½ head of cauliflower, broken into florets
1 Tbsp coconut oil, or more for frying
½ yellow onion, chopped
¼ cup chickpea flour
1 Tbsp cornstarch
½ tsp of onion powder
½ tsp salt
¼ cup nutritional yeast
½ tsp garlic powder
Instructions:
Process cauliflower and onion in a food processor or grate with a box grater.
Transfer crumbled cauliflower mixture into a large bowl.
Add chickpea flour, corn starch, garlic powder, onion powder, nutritional yeast, salt, and water. Stir to combine.
Divide batter into 6 equal portions and shape into 3x2 inch patties.
Heat oil in a large skillet over medium-high heat. Put 2 or 3 patties into the pan and cook for 4-5 minutes on one side. Flip patties and cook for about another 4-5 minutes or until golden brown. Repeat with remaining batter until finished.
---

Coconut Flour Pumpkin Pancakes Recipe
Elf Tesla loved making these for a filling breakfast during her pregnancy. They also make an easy breakfast to prep for the week.
Adapted from Megan Olson at PaleoHacks. Total time:15 mins. Servings: 8
Ingredients:
3 large eggs
½ cup pumpkin puree
3 Tbsp coconut flour
½ cup coconut milk (unsweetened)
½ tsp vanilla extract
1 Tbsp maple syrup
½ tsp cinnamon
½ tsp ground ginger
½ tsp nutmeg
½ tsp baking soda
¼ tsp salt
Dark chocolate chips (sprinkle in when cooking)
Coconut oil
Optional garnishes: fruit, toasted coconut, maple syrup
Instructions:
Preheat a pan over medium heat and grease with coconut oil.
In a large bowl, combine eggs, coconut milk, vanilla, maple syrup and pumpkin.
In a smaller bowl, combine coconut flour, cinnamon, baking soda and salt. Sift to ensure all ingredients are combined.
Slowly fold the flour mixture into the wet mixture. Take care not to over mix.
Place ¼ cup of the batter on the preheated grill pan to form a pancake. Cook 5 minutes or until pancakes begin to bubble in the center. Then flip and cook another 3 minutes on the other side until golden brown.
Transfer pancakes to a cooling rack and repeat the process for the remaining batter.
Garnish with toasted coconut, maple syrup, fruit, or any other desired toppings!
These pancakes can be kept in the refrigerator for up to one week, or in the freezer for up to one month! They are a great option for meal prepping breakfasts for the week.
---
Paleo Pumpkin Snack Bites
Elf Martin keeps these by his desk for days when there's no time to cook breakfast. They're grain-free, low-carb, and high in protein.
Ingredients:
½ cup raw almond butter
½ cup pumpkin puree
1 egg
¼ cup raw honey or maple syrup
½ tsp vanilla
½ tsp baking soda
2 Tbsp pumpkin pie spice
¼ tsp salt
¼ tsp xantham gum (optional, but makes them less crumbly)
¾ cup coconut flour
Up to 1 cup of shredded unsweetened coconut, raw nuts, cacao nibs and/or seeds of your choice
Instructions:
Preheat oven to 350 degrees Fahrenheit.
In a large bowl, mix together almond butter, pumpkin, egg, honey or maple syrup, vanilla, baking soda, pumpkin pie spice and salt. Use a whisk to work out any lumps from the almond butter.
When batter is smooth, stir in coconut flour. Add shredded coconut, nuts, nibs and/or seeds (throw in whatever you like!) and stir just until mixed.
Roll into bite-sized balls and flatten on a greased cookie sheet. These won't spread or rise like ordinary cookies, so they'll retain whatever shape you make.
Bake for 12-15 minutes or until lightly browned. Cool and serve.